---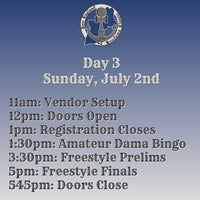 NEKC 2023 Freestyle
You are probably familiar with freestyle so we will skip the intro.
What you need to know to Compete
We will be using the "7 to Spike" format for preliminaries and single elimination head to head for Semis & Finals
7 to Spike Format
All contestants will assemble in a randomized line.
The first contestant in line will be announced for Round 1.
The first 2 contestants will go up on stage.
Contestants will each perform freestyle until either they miss a trick or judges cast their vote.
Winner gets a point and stays on stage for the next contestant, winner goes first.
You can only win 3 rounds in a row.
Once the first contestant announced for Round 1 is about to go up, orders will be randomized.
Round 2 begins the same, and we will repeat round with the same process until we have 8 Contestants reach 5 points.
Top 8 moves on to Head to Head
Head to Head Rules
Random Bracket will be made with each player.
2. 45 Second rounds per player each match.
Single Elimination.
Judges Judge at the end of each round.
Who can compete in Freestyle
All players can & are encouraged to compete in both Add-On & Freestyle.
Prizes:
3rd place will receive some Kendamas/Merch in a prize bag, a gift card for Kendamadepot.com & 1 Ken / Tama of your choice from the booth
2nd place will receive some Kendamas/Merch, a gift card for Kendamadepot.com, 1 Ken & 1 Tama of your choice from the booth, and 100$ Cash
1st place will receive some Kendamas/Merch, a gift card for kendamadepot.com, and 350$ Cash
More Info: https://instagram.com/nekendamaclassic?igshid=Y2IzZGU1MTFhOQ==