---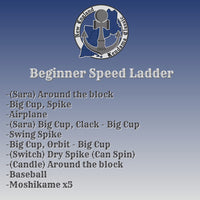 NEKC Speed Ladder Rules:
Speed Ladders are a very simple competition format, a fun way to test your kendama skills under pressure, and a great introduction to competitive kendama.
Speed Ladders will be broken down into Preliminaries, Semi Finals, & Finals
For all rounds contestants will be racing to complete their tricklist.
Tricks must be completed in the order on the list.
You will attempt each trick until it is completed.
You must reset between each trick.
Preliminaries will include 1 round on stage and one round off stage. For both rounds, judges will record how long it takes you to complete the trick list. Then we will add up the total time for each player.
Depending on the total amount of players per division, somewhere around half of the contestants with the fastest times will move on to semi finals.
Semi Finals rounds will take place on stage but will only be timed if all contestants can not fit on the stage at once.
Again somewhere around half of contestants with the fastest times will move on to finals.
Finals rounds will also take place on stage and will not be timed. Instead, the first 3 players to complete the tricklist will be deemed 1st, 2nd, and 3rd place winners of their division.
Who can compete in Speed Ladders?
All players can & are encouraged to compete in both Addon & Freestyle.
All players that do not compete at a pro level may also pick only 1 of the 4:
1. Beginner Speed Ladders
2. Intermediate Speed Ladders
3. Advanced Speed Ladders
4. Amateur Division - Dama Bingo
If you are a sponsored player you may be asked not to compete in any of these 4 divisions depending on your skill level.
Which division should you pick?
For Speed Ladders you should be able to complete all tricks in your division within 1-3 tries on average.
If you can not do one of the tricks within 5 tries you will first want to consider if you can break that trick down and increase your consistency. If not, you may want to compete in a lower division.
If you can do every trick on the list 1st try you definitely should be competing in a higher division.
Sandbagging, AKA competing in a lower division than is appropriate for your skills, may make it easier to win, but actually makes you a loser.
Dont be a loser, you will learn and grow more from challenging yourself. And we want every division to have a close competition.
Prizes:
1st, 2nd, & 3rd Place winners will receive some Kendamas/Merch & a gift card to kendamadepot.com
NEKC 2023 Beginner Speed Ladder Trick List
-(Sara) Around the block
-Big Cup, Spike
-Airplane
-(Sara) Big Cup, Clack - Big Cup
-Swing Spike
-Big Cup, Orbit - Big Cup
-(Switch) Dry Spike (Can Spin)
-(Candle) Around the block
-Baseball
-Moshikame x5
Video: https://instagram.com/nekendamaclassic?igshid=Y2IzZGU1MTFhOQ==