---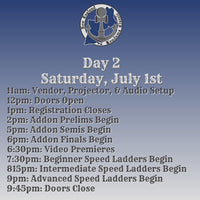 NEKC 2023 Add-On Tournament
There is so much to say about Add-On Tournaments that we accidentally began writing a book just for the intro alone.
The Bottom Line is that Add-On Tournaments Rule, we think players of all skill levels will enjoy it, and will be able to develop the game more from more people participants.
SIGN UP FOR ADDON :)
Where most kendama events have Open Division for their pro level standardized competition, the New England Kendama Classic will be using a competition format based on the game of "Add-On".
Add-On Tournaments are a completely unique and original competition format, perhaps the signature and main event of the New England Kendama Classic, and a passion project of Kendama Depot's Founder & NEKC Organizer Michael Reeves (MJR).
Add-On Tournaments are intricately designed for many different purposes
1. Through a unique point system, Addon Tournaments provide a competition format that can not only include players of all skill levels, but also inherently create some of the closest competitions for players of all skill levels.
In other words, this is a competition format that you can gain just as much value from participating in, if not more, even if you believe you dont have a chance to place 1st.
2. We believe one of the greatest benefits of kendama games & competitions is the exchange of trick ideas. And we would confidently claim that Add-On Tournaments are by far the competition format that will provide players (again, of all skill levels) with not only the highest number of new trick ideas, but also with new trick ideas in some of their lowest difficulty forms, which makes them more attainable to learn and incorporate into your own playstyle.
In other words, where in a game of K.E.N. players are incentivized to perform the most unique and highest difficulty tricks they can to get points on their opponent, in Add-On, players are incentivized to perform the most unique and lower difficulty level tricks they can.
3. We would also claim that through the trick restrictions we use, Add-On Tournaments provide the most thorough test of a players ability to perform different types of tricks.
In other words, Add-On Tournaments will test you on the widest variety of different tricks than any other competition format we know of.
4. With the unique use case we have for "Prove It's", Add-On Tournaments also provide the most opportunity for players to benefit from applying strategic thinking to the game.
In other words, where competition formats like K.E.N., Speed Ladders, & Open Division involve strategy to the level of checkers, Add-On Tournaments involve strategy closer to the level of chess.
We could list many more interesting and unique dynamics about Add-On Tournaments, how fun they are, and how important we think they are for the development of Kendama as a whole, but the last thing we'll mention now is
5. Through our 5 Rounds of Preliminaries Add-On Tournaments also include the most competition time/experience even for lower skill level players.
One of the biggest factors that makes a better competitive kendama player is experience.
Most kendama competition formats use a single or double elimination structure, which means if you are new to competing and dont perform well immediately, you may get one or two rounds, potentially totaling less than 10 minutes of competition experience.
Put all of that together with the fact that we are still developing the rules to Add-On Tournaments, finding the best tools to make learning and coordinating Add-On Tournaments easier for others, and that many players consider Add-On to just be the most fun head-to-head kendama game in existence, participating in this Add-On Tournament is something we encourage any kendama player who has the time to participate in.
PS. If you are interested in learning to host an Add-On Tournament yourself please do reach out via email to michael@kendamadepot.com
What you need to know to Compete
When learning any new high strategy level game, there are a books worth of dynamics that could be explained, most of which will only truly be learned through experience, so we'll keep this as brief as possible. You only need to know Rule Number 1 & Rule Number 2 to compete.
Add-On Rules:
-Yes it does
-Rule Number 1: Follow the Extended Rules
-Rule Number 2: If you are unsure about any rules at any point in your game, stop your game and ask one of our sanctioned officials:
Extended Rules:
-Every set/add-on must be a single trick, but that doesn't mean every single trick counts
-No String Tricks without tutorial videos
-No repeating concepts per trick
For example, No juggle tap juggle tap insta Late insta Late… etc
-Only 1 instance of each concept per trick
-No repeating tricks per line
-Each turn, players have 3 tries to match and 1 try to add on
-If you fail to match the current line, your opponent gets a point
-If you match but fail to add-on, the line continues, and it is your opponent's turn
-Prelim Games are played to 4 points
-Each player gets 2 Prove It's per game
Prove It Rules:
-Prove its can be used ONLY BEFORE a players last attempt to match
-Opponent gets 2 tries to match on a prove it
-If opponent fails to match: Challenger gets a point
-If opponent matches: Opponent gets a point
-One rebuttal prove it is allowed per line
-Semi Finals Rounds to 5 points
-Finals to 7 points
Who can compete in Add-On
All players can & are encouraged to compete in both Add-On & Freestyle.
Prizes:
3rd place will receive some Kendamas/Merch in a prize bag, a gift card for Kendamadepot.com & 1 Ken / Tama of your choice from the booth
2nd place will receive some Kendamas/Merch, a gift card for Kendamadepot.com, 1 Ken & 1 Tama of your choice from the booth, and 100$ Cash
1st place will receive some Kendamas/Merch, a gift card for kendamadepot.com, and 350$ Cash
More Info: https://instagram.com/nekendamaclassic?igshid=Y2IzZGU1MTFhOQ==